Now Available: Tickets for the Mural Unveiling Reception
Event information
February 2nd from 5:30pm – 8:00pm. A buffet style dinner will be served at approximately 6:15 by Slow Food UW. Kids will not require the purchase of a ticket. We have put together a little scavenger hunt for them to find various objects hidden throughout the mural! Only the cleverist will find all the items! The location of the mural is in the basement of The Crossing at 1127 University Ave, Madison. The cost of tickets is on a sliding scale from $9-36, all of which goes directly to the artists.
Get tickets          See Facebook Event
____
First Thoughts
In 2018, as we, the executive directors of Slow Food UW (Charlie & Amina) and the director of The Crossing (Mallory) began our annual lease negotiations, Mallory mentioned that perhaps we should re-paint the walls of the our dining room space. It's color was previously a brownish tan and not particular inviting. At that conversation, we through around color suggestions: green, bright blue etc. Nothing seemed good for the space. We moved on to discuss other topics and eventually, over the next few weeks, thoughts of re-painting began to fade.
Proposal
At a meeting some weeks later, water was discovered dripping from the pipes over the stage in the dining room. This meant that a small section of the walls had to be replaced. This got us thinking, is there something better – more beautiful, inviting and perhaps even educations – that we could put on the walls. We considered tapestries, posters etc. but in the end of the day, we wanted something that would be wholly part of our space. Not hung or transient but permanent. We decided to support artists and have them collaborate to create an original piece of work just for the space. We brought our ideas to Mallory to see what she would think.
Theme
Mallory, who is perhaps the most enthusiastic and supportive person ever, was quickly on-board. We settled on the broad theme of "social justice" and discussed various sub categories, eventually settling on food, the environment, community and spirituality. The intersectionality of justice was not lost on us and we wanted the mural to convey that justice does not mean the same thing for all communities. These themes were meant to help narrow the broad theme into more bite-sized chunks for the artists, a blank canvas is often the biggest hurdle.
Searching
And so it was official, The Crossing and Slow Food UW would partner like never before to make the mural of our dreams into a reality. Artists need true sustainable support (like everyone) and so we decided we would pay an hourly wage of $18. We put all of the necessary information together onto a poster and threw them up all over town hoping that people would send in an application. We got 48 total applications, slightly over our estimations. And with the help of Natalie Hinahara, who's artistic expertise was vital to the process, we decided we needed only 8 artists.
Meeting
When we had finally selected all the artists, it was time for them to meet. We met in the basement of The Crossing (the floors had just been redone due to more flooding caused by the renovations to the Chemistry Building next door) on November 30, 2018 over some food and drink. Mallory, Amina, Charlie, Natalie led the 3-hour meeting and in attendance were Shiloah, Mario, Adreena, Angelica, Pete, Tony and Sylvia. We had left the meeting very open, we wanted the artists to have full autonomy within the framework. How should this be collaborative? How can we execute a unified artistic work? Won't it look overwhelming? What colors should we use? Who should paint where? How should we prepare the walls? All of these questions (and more) had to be answered before the first drop of paint could be put onto the wall.
Planning
The artists each went the separate ways after the meeting, they had agreed on where they would each paint and answered all the other necessary questions. Needless to say, everyone was very excited after the meeting! Each artist had different experience with murals and collaborations but they all shared a very high level of talent and expertise. Varying styles from graffiti to cubism to surrealism would have to be melded together to look cohesive and not overwhelming. The artists would have full access to The Crossing beginning on January 2, 2019 so they had some significant time, after the meeting, to plan and discuss further. However, they might never actually be in The Crossing at the same time as their colleagues.
Natalie Hinahara (Lead Artist)
Introducing the lead artist of this project, Natalie Hinahara!
After studying art at UW-Madison, Natalie moved to Viroqua, Wisconsin to pursue a career making art. She focuses on block printing, screen printing and painting.
Although she has done large paintings before, this will be her first adventure in mural painting. The theme that we presented to the artists was social justice. To help narrow down this broad theme, we also gave categories: environment, food justice, community and spirituality.
Natalie will be using imagery of prairies, seeds and migration.
Prairies are an infinitely complex community of coexisting species which provide a metaphoric model for how we should strive to coexist.
Seeds are the mobile portion of the plant kingdom. They fly over mountains, they sore over oceans, they lie dormant for years, they are trampled, eaten, pooped out and then… they find rest. The few that survive their long journeys grow roots and call the new foreign soil home. This, Natalie believes, is another example of how humanity can learn from the resilience and flexibility of the natural world around us.
Monarch butterflies and many species of birds display a natural tendency to migrate to places of safety and abundance. This process of leaving one place of danger and unrest for another place of peace and promise is one that humans share with the natural world. Just as we welcome and celebrate millions of migrating creatures from far off lands into our yards, trees, cities and parks, Natalie believes that we must offer a similar loving and welcoming spirit to all immigrants. Again, nature conveys a valuable lesson for us to learn from.
Angelica Contreras
Angelica, (or Angie as she prefers), was born in Whittier, California just outside of LA. There she developed a love for art at a very young age. Her parents quickly realized that she communicated with her art and that there would be art and paint all over the entire house if they did not get her some art supplies. Angie speaks of these first art supplies and the encouragement of her parents as the beginning of her artistic journey.
At a young age, she moved to Guadalajara, Mexico. There her artistic journey continued into the Universidad de Guadalajara where she received a BA in visual arts and a Masters in art education. After working at various art academies in Mexico, Angie moved back to Madison and is currently working in the Madison school district as a bilingual resource specialist. This role includes providing translation and support for Spanish speaking families.
Through this mural, Angie will show how social justice operates through food. She has chosen imagery from Mexican and Latino folk art, such as the heart and the hummingbird. Angie says that if you grew up in a Latino culture, you will recognize the idea that we should give with our whole heart, even if one does not have much to give, there can always be a gift from the heart.
Her 6ft x 5ft painting of the semi-realist heart is surrounded by flowers and vegetables which are growing and feeding from the heart. This helps to again convey that the heart is a place of endless giving, the heart can always feed others, we can always give the gift of love to one another. Furthermore, Angie chose various pollinators such as the hummingbird, which secondarily feed off of the flowers that feed off the heart. In this way, we can visualize how giving with the heart may cause chain reactions of positivity and growth throughout a community.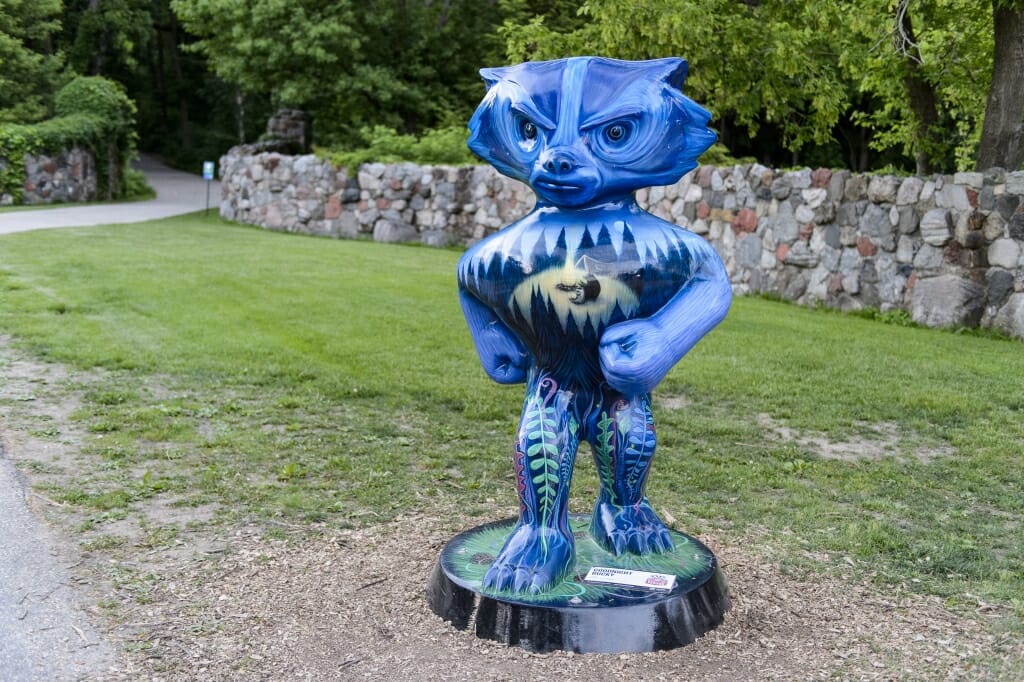 In addition to this mural, Angie also painted a Bucky for the "Bucky on Parade" pop-up art project which Madison took on in 2018. Hers was displayed by the entrance to the Picnic Point Trail.
https://www.angelicacontreras.net/
Adreena Burhan
Adreena was born in Illinois but moved to Kuala Lumpur, Malaysia when she was very young and still calls Malaysia home. Since she was little, she has always loved doing arts and crafts, although they have never been the primary focus simply because it is a difficult to earn a living as an artist.
After studying for two years in India, she moved to Madison to attend university, she immediately enrolled in the studio arts certificate (UW-Madison's version of a Minor) and began taking classes in as many artistic disciplines as possible. Only five classes are required but Adreena took eight and intended to take two more before "accidentally graduating," as she put it.
For this project, Adreena is focussing on the intersectionality between privilege and education.
Her work, in contrast to Angie's and Natalie's presents little abstract figures of realist racial identities. She uses the image of a stack of books to indicate a ladder of educational success and celebration. Her figures appear in various ascending positions of the tower of books. A small white-male figure sits, in fragments of a recently hatched egg, on the very top of the books, indicating the highest level of racial and gender privilege in American educations. The egg shell shows that this position was not earned by ascending the books but instead the figure was born into this position of privilege and the other figures below will have to work significantly harder to reach the same levels.
Adreena also uses the image of a brick wall to symbolize that in today's world of inequality, work is often not enough to combat structures of power and privilege. Those who are born behind barriers of war and/or poverty face insurmountable obstacles. Education may simply never be an option, much less ascending the books to the very top. These external walls must be torn down in addition to the internal barriers of privilege.
Some of this work is a direct and overt critique of power structures that Adreena has witnessed throughout her time in the US and at Madison specifically. Often the identity of white male is the most celebrated in education. White men dominate historical narratives even when people of other races or genders were much more influential in a given event. This white washing behavior must change at UW-Madison if we are to move towards a more socially just educational system.
Five More artist profiles coming…
Now
Artists are currently working day & night in the basement. They are sketching, painting, coating, and collaborating with great efficiency and enthusiasm. It is truly wonderful down there. We will be bringing you another artist every few days as the UNVEILING EVENT approaches!
Unveiling Event
Want to be one of the first people to see the completed Mural in all of its grandeur? This event will not only allow you to see the mural, but you will also be directly be supporting the work of these incredible artists. The sliding scale ticket price ranges from $9-36 which, all of which goes directly to the artists. They will be fully compensated for their work no matter what, but your attendance of this event will help tremendously! No need to come for the whole event. Buffet style food and drink will be provided by Slow Food UW. Kids attend for free. See you there!
Click HERE for tickets to the Unveiling Reception.
Click HERE for event details on Facebook.